Mobile Jaw Crusher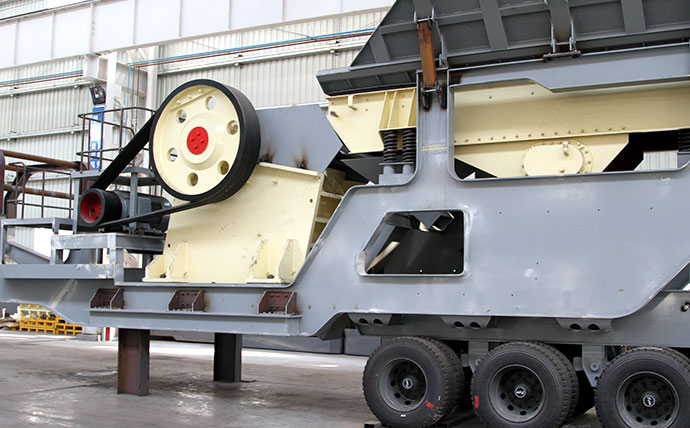 Production capacity: 5-2200t/h
Feeding size: 120-1,500mm
Processible materials: Limestone, sandstone, construction waste, iron ore, quartz, pebbles, glass, dolomite, coal gangue,etc.
Mobile jaw crusher, with another name of portable jaw crusher, is new mobile rock crushing equipment, which greatly expand the concept of coarse crushing. Mobile jaw crushing plant is widely used in mining, metallurgical, building materials, transportation, water conservancy and other industries.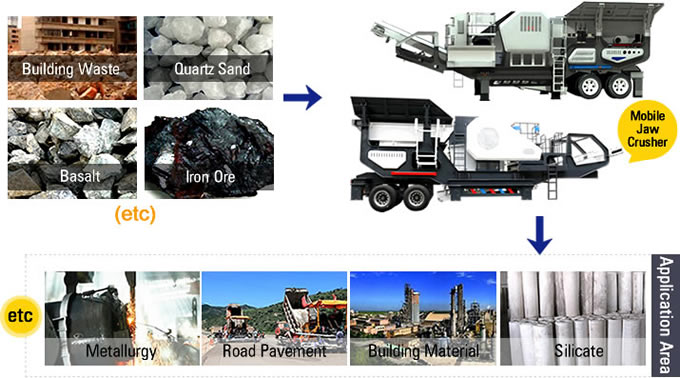 Classification of mobile jaw crushers
1. Wheel mobile Jaw Crusher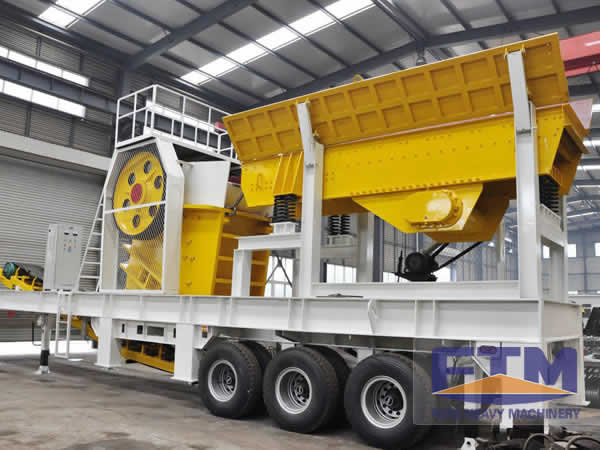 Wheeled mobile jaw crushers are vehicle-mounted mobile jaw crushing plants equipped with jaw crushers, vibrating feeder, etc. Chassis is tire type, so the portable jaw crusher can be drove flexiblely in crushing site. With the development of the world economy, wheeled mobile Jaw crushers with environmental protection concepts can boost the sustainable development of mining industry, with good development prospects.

2. Crawler mobile jaw crusher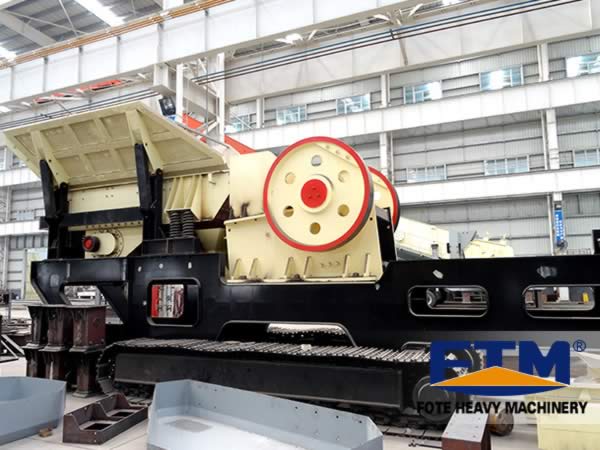 Crawler chassis with hull structure is the most obvious characteristic of crawler mobile jaw crusher, with high intensity and low ground pressure. Crawler mobile jaw crusher is good at climbing, so it's especially suitable for crushing in mountain slope or other rugged topography.

Advantages of mobile jaw crushers
1. Mobile jaw crushers can meet the needs of complex work environment.
Mobile jaw crushers are designed to: remove crushing obstacles such as crushing site, bad crushing environment, etc., more suitable for harsh quarry and mine site.

2. Good crushing performance, high output
Fote portable jaw crusher is equipped with jaw crusher which is the most popular stone crusher with unbelieveable high performance. Jaw crusher can process ores with compressive strength not more than 320MPa to medium-grain, and its yield can be 2,200t/h.
3. Perfect combination reduces materials transport costs
Portable jaw crusher is combined with jaw crusher, vibrating feeder, vibrating screen, conveyor belts and other reasonable disposition, and it can manage feeding, crushing, transport and other process in one mobile jaw crusher, avoiding moving materials, greatly reducing the transportation costs of materials.

Fote mobile jaw crushers have been exported to many countries in North America, South America, Africa, etc, very welcomed by customers, if you have any questions or suggestions, please leave your messages on our Web site, our 24-hour service will answer your questions online! Thank you so much!
Technical Data
| | | | | |
| --- | --- | --- | --- | --- |
| Model | FTM938HD86 | FTM1149HD98 | FTM1349HD110 | FTM1349HD125 |
| Transportation lenght(mm) | 12600 | 13500 | 14500 | 15200 |
| Transportation Width(mm) | 2600 | 2700 | 2800 | 2900 |
| Transportation Height(mm) | 3870 | 4200 | 4450 | 4500 |
| Maximum Lenght(mm) | 12500 | 14000 | 16100 | 16700 |
| Maximum Width(mm) | 4100 | 4500 | 5100 | 5100 |
| Maximum Height(mm) | 4100 | 4900 | 5000 | 5300 |
| Weight(t) | 39 | 57 | 55 | 65 |
| Tire Configuration | 并装双轴 | 并装三轴 | 并装三轴 | 并装三轴 |
| Jaw Crusher | HD86 | HD98 | HD110 | HD125 |
| Maximum Feeding Size(mm) | 500 | 550 | 660 | 800 |
| Discharge opening range | 50-150 | 75-175 | 100-200 | 125-225 |
| Capacity(t/h) | 85-275 | 110-350 | 215-510 | 280-650 |
| Vibrating Feeder | ZSW380×95 | ZSW420×110 | ZSW490×130 | ZSW490×130 |
| Main Belt Conveyor | B800×8.5m | B1000×9.5m | B1000×11m | B1200×11m |
| Side-opening Belt conveyor(optional) | B500×3m | B650×3.5m | B650×4m | B650×4m |
| Gensrt(optional) | 200KW | 250KW | 270KW | 400KW |
| Iron separator(optional) | RCYD(C)-8 | RCYD(C)-10 | RCYD(C)-10 | RCYD(C)-12 |