Sand Maker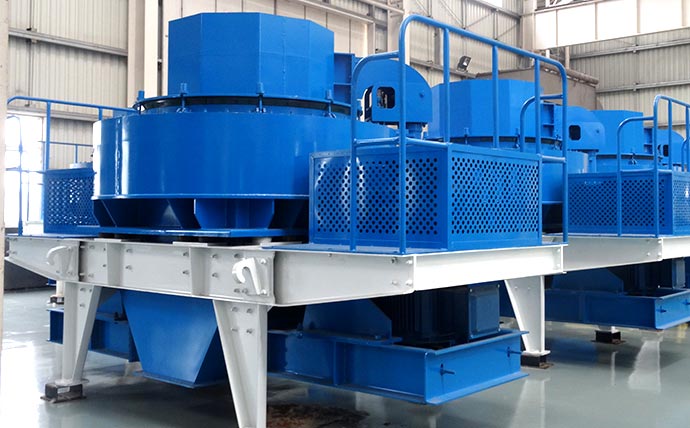 Processing capacity: 12-360t/h
Processible materials: Coal, minerals, limestone, granite, sand gravel, sandstone, construction waste, concrete, iron ore, quartz, artificial sand, brick and tile, etc.
VSI sand maker, also known as VSI crusher, is high-performance sand making equipment with international advanced technology. VSI crusher is good primary crusher and secondary crusher with excellent performance, so it's one of the most popular sand making machines in many countries. VSI crusher can continuously work 720 hours without stopping, is currently the latest mainstream equipment in sand making industries.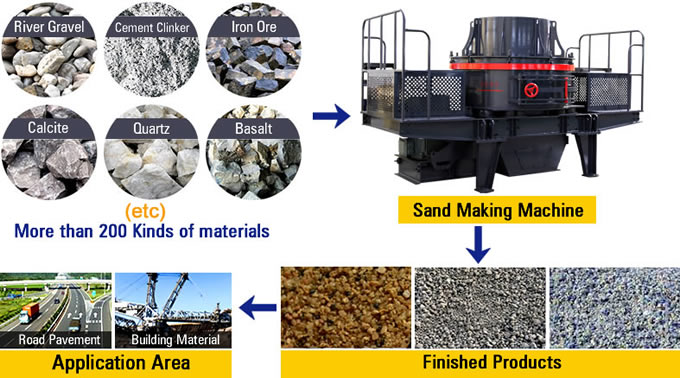 Advantages of Sand Maker
1. Larger crushing ratio: up to 40 per cent, and the VSI sand maker can instead of primary crusher and secondary crusher
2. Lower input, higher output: equal scale, the investment cost of VSI Crusher is lower 20%-35% than traditional sand making machines, while the productivity is higher 8%-15% than conventional sand making equipment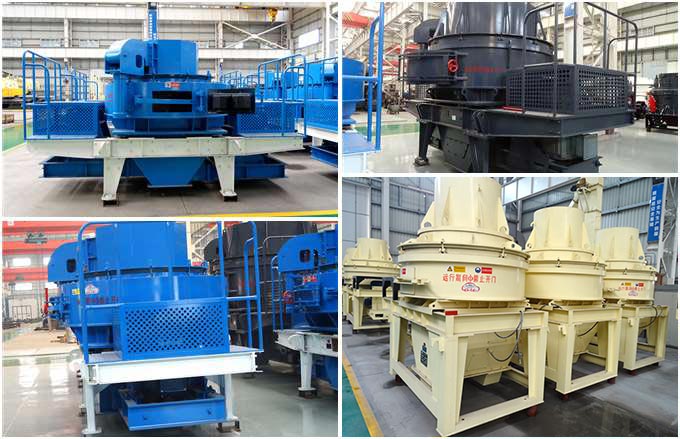 3. Lower maintenance costs: all wearing parts of VSI crushers are made of special hard wear-resistant materials with long service life to reduce maintenance costs. Long-term operation and maintenance cost is lower 35%-50% than comparable traditional sand making machines.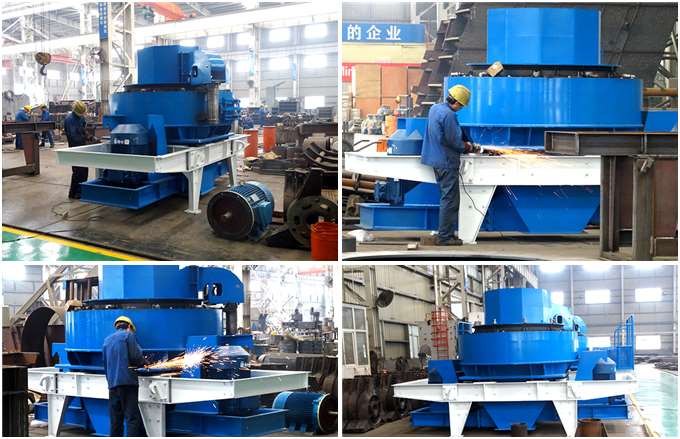 Applications of VSI sand maker
1. To make manufactured sand by using river pebbles, rocks (limestone, granite, basalt, diabase, andesite), ore tailings, etc.;
2. To produce construction aggregate, road pavement materials, bedding material, asphalt concrete and concrete aggregates;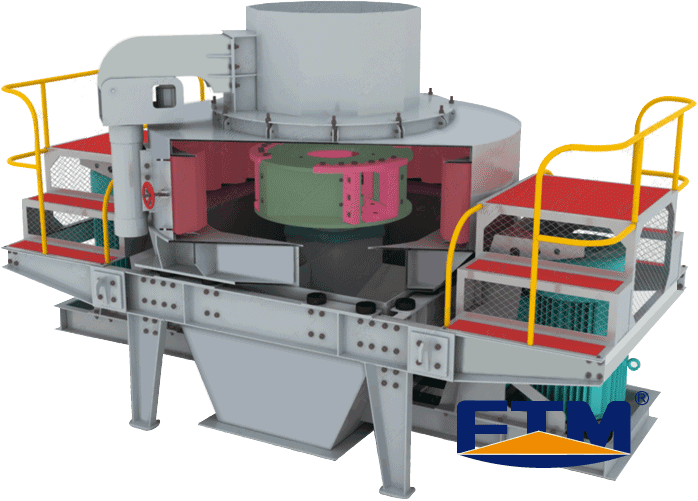 3. To make machine-made sand and stone shaping in water conservancy and hydropower, roads, bridges, runways, municipal engineering, high-rise buildings, etc.;
4. Secondary crushing in the areas of building materials, metallurgy, chemicals, mining, refractory, cement, abrasive material, etc.
Sand making plant
A full sand making production line mainly includes feeder, crusher, VSI sand maker, vibrating screen, sand washing machine, and the sand maker is the core equipment. Our company designed sand making plant with international advanced standard after experience for decades years.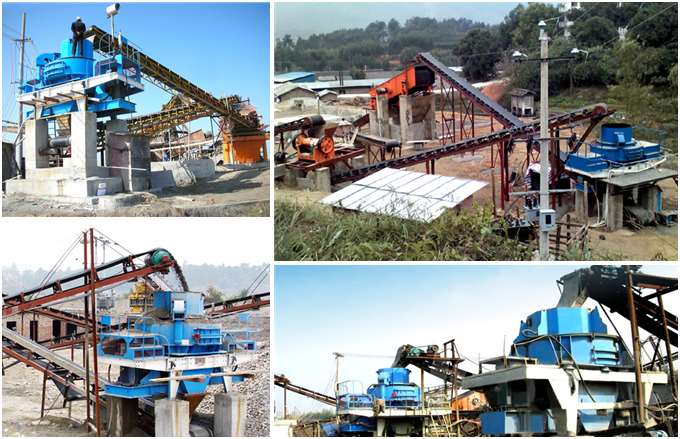 Artificial sand has become the mainstream in the market. Fote has more than 30 years experience in designing sand making plant, and has designed thousands of river sand and gravel sand production lines, granite sand production lines, etc. We welcome your inquiry, and design the most satisfactory sand making plant for you!
Technical Data
Model
FTMVSI-7611
FTMVSI-8518
FTMVSI-9526
FTMVSI-1140
FTMVSI-1145
FTMVSI-1150
Capacity
(t/h)
Feed both
at center
and sides
80-180
140-260
200-380
300-520
350-610
360-650
Feed at
center
40-90
70-130
100-190
160-260
180-355
190-365
Max.feeding
size(mm)
Soft
material
35
40
45
50
50
50
Hard
material
30
35
40
40
45
45
Rotation
speed
(r/min)
1700-1890
1520-1690
1360-1510
1180-1310
1150-1300
1150-1300
Double Motor
power(kw)
4P 110
4P 180
4P 264
4P 400
4P 440
4P 500
Overall dimension
(L×W×H)(mm)
3700×2150×2100
4140×2280×2425
4560×2447×2778
5100×2700×3300
5500×2700×3300
5500×2700×3300
Power supply
380V 50HZ
Lubrication
station
Double
motor
power of
oil pump
2×0.31Kw
Safety
assuance
The oil pump assure enough oil supply and automatic switch off with no oil
pressure,air cooling or water cooling,motor heating start up in winter
Overall
dimension
(L×W×H)
(mm)
820×520×1270
Power of oil
tank heater
2KW