Circular Vibrating Screen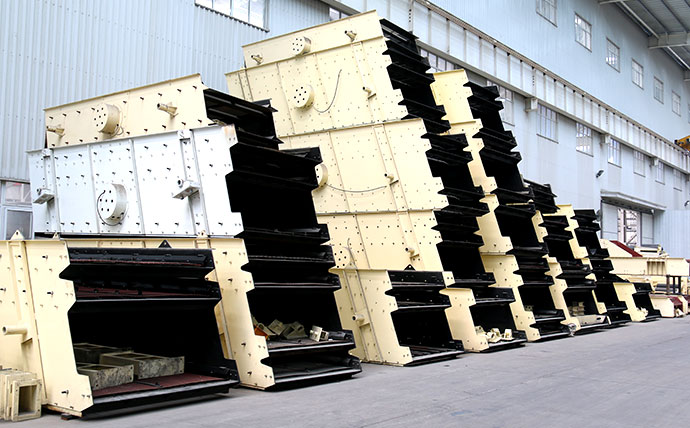 Crushing capacity: 8-800m³/h
Feeding size: 200-400mm
Processible materials: coal, brick and tile, concrete, iron ore, quartz, pebbles, dolomite and other metal rocks and ores.
Circular vibrating screen is a kind of multi-layer, high efficiency, new type vibrating screen working with circular motion, In order to screen the work stones in open pit, we specially design the circular vibrating screen. Industries like coal dressing, construction material, electric power and chemical engineering also welcomes the use of circular vibrating screen machine.
Advantages of circular vibrating screening machine
Adjustable amplitude: Since the amplitude of circular vibrating screen is adjustable and the classified products are similar in specification, you can use the machine well if you are in the field of mining industry.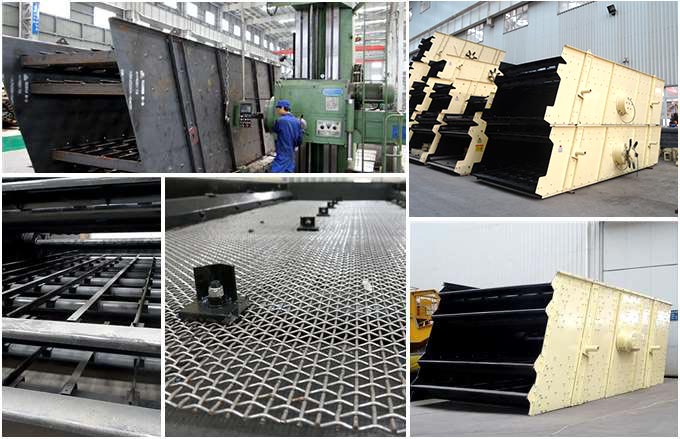 High screening efficiency: Since the screening box vibrates violently, it is difficult for material to congest the circular vibrating screening machine.
Applicable materials: pebble, granite, basalt, iron ore, limestone, calcite, quartz and diabase, etc.
Long service life: we use the spring steel to knit the screen. It is useful to prolong the service life of circular vibrating screen.
If you want more information about circular vibrating screen, please leave a message on our website or email us, we have professional technicians to answer your question.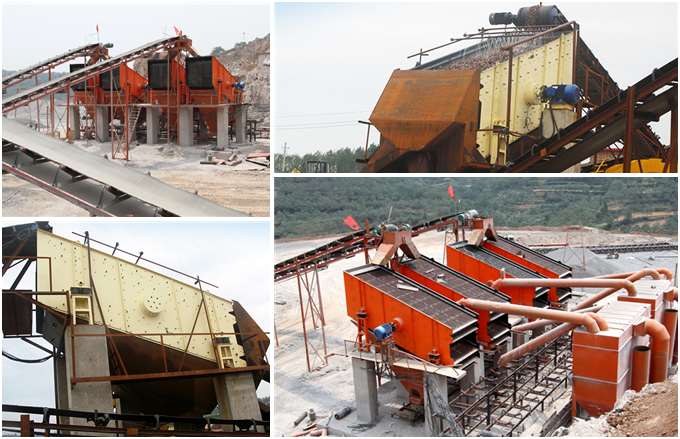 Technical Data
Model
Sieve
layer
Sieve
area
(m²)
Mesh
size
(mm)
Max.
feeding
size
(mm)
Processing
capacity
(m³/h)
Vibrating
Frequency
(r/min)
Double
amplitude
(mm)
Motor
power
(kw)
Sieve
obliquity
(°)
Sieve
specification
(mm)
>Dimensions
(L×W×H)
(mm)
2YK1230
2
7.2
4-50
200
12-78
800-970
6
6P 7.5KW
20
1200×3000
3430×1860×870
3YK1230
3
10.8
4-50
200
13-80
800-970
6
6P 7.5KW
20
1200×3000
3570×1860×1210
2YK1237
2
8.88
4-50
200
15-86
800-970
6
6P 7.5KW
20
1200×3700
4050×1860×870
3YK1237
3
13.32
4-50
200
16-90
800-970
6
6P 7.5KW
20
1200×3700
4270×1860×1210
2YK1548
2
14.4
5-50
200
22.5-162
800-970
6
6P 11KW
20
1500×4800
5420×2210×1230
3YK1548
3
21.6
5-50
200
22.5-162
800-970
6
6P 15KW
20
1500×4800
5660×2210×1610
4YK1548
4
28.8
5-50
200
22.5-162
800-970
6
6P 18.5KW
20
1500×4800
6230×2210×2060
2YK1854
2
19.44
5-80
200
32-312
800-970
6
6P 22KW
20
1800×5400
5960×2550×1420
3YK1854
3
29.16
5-80
200
32-312
800-970
6
6P 22KW
20
1800×5400
6260×2550×1780
4YK1854
4
38.88
5-80
200
32-336
800-970
6
6P 22KW
20
1800×5400
6830×2550×2160
2YK2160
2
25.2
5-100
200
50-475
970
6
6P 30KW
20
2100×6000
6720×2840×1530
3YK2160
3
37.8
5-100
200
50-475
970
6
6P 30KW
20
2100×6000
7030×2840×1910
4YK2160
4
50.4
5-100
200
50-497
970
6
6P 37KW
20
2100×6000
7300×2840×2380
2YK2460
2
28.8
5-100
200
65-550
970
6
6P 30KW
20
2400×6000
7020×3140×1530
3YK2460
3
43.2
5-100
200
70-620
970
6
6P 37KW
20
2400×6000
7300×3140×1910
4YK2460
4
57.6
5-100
200
80-680
970
6
6P 45KW
20
2400×6000
7600×3140×2380
2YK2866
2
31
5-100
200
70-650
970
6
6P 37KW
20
2800×5600
6650×4320×1620
3YK2866
3
47
5-100
200
80-700
970
6
6P 45KW
20
2800×5600
6650×4320×2120
4YK2866
4
62
5-100
200
90-750
970
6
6P 55KW
20
2800×5600
6650×4320×2620
2YK2870
2
39.2
5-100
200
70-680
750
6
8P 22×2KW
20
2800×7000
7600×4320×1620
3YK2870
3
58.8
5-100
200
80-720
750
6
8P 22×2KW
20
2800×7000
7800×4320×2120