Superior Advantages of Fote Cone Crushers
As a commonly-seen crushing equipment, the cone crusher is widely used at present. The cone crusher, with symons cone crusher, hydraulic cone crusher, spring cone crusher and compound cone crusher as its components, has its unique structure. With regard to the hydraulic system, it plays the roles of adjusting the discharging mouth of cone crusher, realizing the perfect discharging of foreign matters and ensuring the safe operation of whole machine. The chamber-type of cone crusher like hydraulic cone crusher is an important technical index. From coarse crushing to tertiary crushing, Fote cone crusher has different chamber types, which are capable to meet your different demands.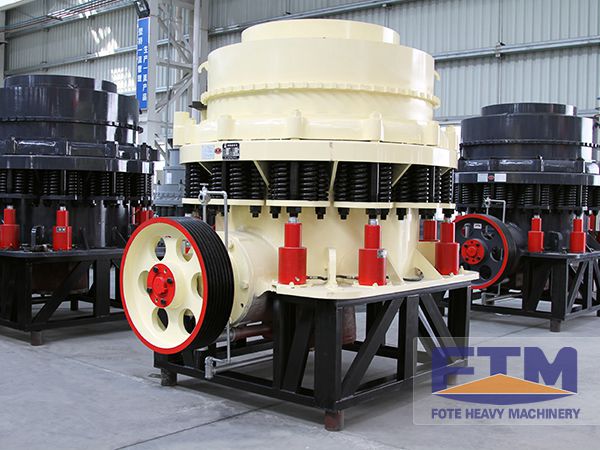 Fote cone crusher like hydraulic cone crusher enjoys the features of perfect sealing and reliable operation. The labyrinth sealing device in cone crusher plays the roles of ensuring the cleanliness of lubricant, prolonging the service life of bearing and making the machine run more smoothly. Compared with other crushing machines, Fote cone crusher is more easy for users to change the parts. The upper crushing wall is equipped with pins and the lower crushing wall is fixed with hydraulic nut, so the Fote cone crusher is easy for part changes.
By virtue of the above unique features, Fote cone crusher remarkably advantages in smooth operation, strong working capacity, high working efficiency and low energy consumption. Being the NO.1 brand of China mining machinery, Fote works very hard to practice the service tenet of being responsible for every procedure, every product and every customer. If you need our products, please click the website and leave messages on it: http://www.orecrusherfactory.com. Thanks for your sincere support. Welcome you to come for site visit and inspection.